School Residential Visits
We run general outdoor education residentials throughout the year for primary and secondary pupils
A residential visit to Storey Arms is an ideal opportunity for children to explore and discover things, both about the natural world and also about themselves and others.
BENEFITS OF A RESIDENTIAL VISIT
A residential visit to the Storey Arms Centre will have a positive impact on visiting young people, an impact that is often life changing.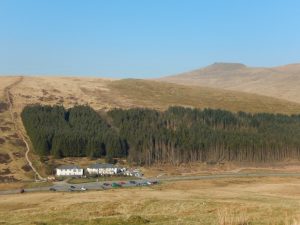 Some of the beneficial learning outcomes for pupils that result from a visit to the Storey Arms are
Helping pupils to realise that being physically active, eating and sleeping well are important aspects to their well-being
Being aware that others may find certain things more difficult than they do and, therefore, may require their help and support
Managing and communicating their own feelings and emotions, improves mental health and enables pupils to be more aware of those of others
Respecting the personal space, belongings and opinions of fellow pupils
Nurturing a curiosity towards the natural environment, the ways that physical and human processes have and continue to impact on it and developing strategies to improve their own actions to aid sustainability
Following a residential visit, teachers will see
Improved levels of knowledge, skills, listening and understanding
An impact on achievement
Improved relationships between pupils and between pupils and school staff
A residential visit also contributes to the 'Four Purposes' of the new Welsh curriculum, as well as the 'Six Areas of Learning and Experience'. In addition, a number of the 'Statements of What Matters' in different areas are also relevant.
These contributions towards the new curriculum are often incidental to a visit and the activities, but we can make them more explicit if visiting staff wish to focus on particular aspects.
THE PROGRAMME
We tailor our residential programmes to suit the aims of the visit organiser and the needs and abilities of the group. We choose from a range of activities including gorge walking, caving, canoeing (and other craft!), hill walking, rock climbing, together with shorter, site-based activities. You can see more details about each activity here.
We usually focus on one main activity during the day. This enables pupils to engage fully with the activity, to improve their skill level and build resilience throughout the day. Occasionally, we may split a day between two activities. Some activities work together better than others and we will discuss this with visiting staff prior to the visit or on arrival.
We design all activity sessions to encourage learning:
They require pupils to work together, to encourage one another, to persevere and manage their resilience
We challenge pupils by teaching them new activities in different environments, allowing them to discover new things about themselves and others
We encourage pupils to slightly step out of their comfort zones. We do this in a safe and considered way with the instructor carefully managing the situation and outcomes.
Some schools undertake more than one visit to Storey Arms during the academic year, with different year groups on each visit. We tailor these programmes so that returning pupils experience either different activities on each visit, or maybe progress to the same activity but at a different, and often more challenging, venue. Alternatively, we can offer different learning outcomes on a second visit.
We work throughout the year and, very occasionally, the weather can be a limiting factor, restricting our choice of activities or venues. The flexibility in our programmes and the experience of our instructional team ensures that we still meet your aims for the visit. In fact, it can sometimes offer up exciting opportunities that are not usually available!
Outline Sample Programme
A typical residential programme at the Storey Arms Centre will look like this.